Quaduro Systems is always finding ways to improve the way our tablet PCs work and how best tablet computers can increase end user productivity. A tablet PC with integrated 3G is one of improvements and a tablet computer device with built in to the Quadpad 3G HSDPA which offers exceptional connectivity and signal quality world-wide is where the QuadPad 3G tablet PC is today.
Quaduro Systems believes customers deserve the very best in not just service but products as well. We are proud to announce the integration of the Novatel Wireless 3G Module in to the Quadpad 3G slate tablet PC hsdpa enabled. Engineers at Quaduro's London base offices have been trying to implement a 100% reliable 3G Module that would be able to have full connectivity in all nations, and that is where Quaduro has implemented the world renowned wireless connectivity of the Novatel Product line.
The module is an embedded component that can be integrated into a Slate Tablet PC for 3G mobile data applications. Powered by the Qualcomm® MDM6085 chipset, the advanced 3G Module proposes enhanced presentation to its consumers on all networks.

The small technically enhanced device influences various functions for automatic switching between networks and enables your customers to work, play and stay connected whether they using integrator software, on business trip or on vacation. The Quadpad 3G tablet PC with HSDPA simplifies connectivity and you can rely on its network anywhere, anytime.

Quaduro's integrated 3G module occupies a min 23% less volume than a standard PCIe Mini Card yet provides 2.5x the heat dissipation surface. The Quadpad 3G tablet computer with integrated HSDPA is manufactured in such a way where the FFC-FPC connector can be mounted on to the mother board for less loss and grater performance.

State of the Art Integration in a Slim and Compact Format.

Key Factors
compressed, 45.2mm x 53mm x 2.6mm
Dual-band CDMA 1xEV-DO Rev. A/CDMA 1xRTT - 800/1900 MHz
Automatic switching between networks
Standalone, MS, and GPS XTRA
Data speeds up to 3.1 Mbps on downloads and up to 1.8 Mbps on uploads
Engineered with NovaSpeed®, Novatel Wireless® proprietary routing algorithm for increased throughput
Condensed trace routing and compact component layout for increased power efficiency and decreased weight
MobiLink® Connection Manager, Software Development Kit, and Application Program Interface
Supports Windows® Vista, XP, 7, and Linux 2.6.16 or higher systems
Optional RUIM
Optimized for low current drain
Key Benefits
Quick, easy access to email, the Internet, corporate networks, and voice services -- anytime, anywhere worldwide
100% reliable performance allows users to stay connected whilst in the work environment or between family and friends.
A Quaduro Systems 3G/HSDPA module is capable of connecting to all networks through any service provider worldwide.
ABOUT QUADURO SYSTEMS
Quaduro is been a world recognized supplier of Slate Tablet PCs throughout the past few years. With always bringing in new technology Quaduro has built a strong reputation as a solid and reliable computing source. Quaduro boasts a strong varied clientele basis of names like WOW! Wurth online world Gmbh and Euro Car Parts in the Automotive sectors, Promoveo Technology in the Home Automation Sectors and InTouch with Health in the Health Care sectors respectively. Quaduro is persistent in bringing in new and improved technology that will further the productivity of its clients and associates. Quaduro's range of slate tablet computers are vast and complex yet with simple people friendly operating systems like Windows and Linux It has captured the global market by storm. For more information on a specific tablet pc suitable for the needs of your establishment please visit www.Quaduro.com and help us help you in bringing the future closer to home!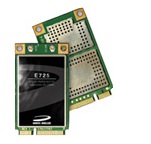 ABOUT NOVATEL WIRELESS
Novatel Wireless, Inc. is a leader in the design and development of innovative wireless broadband access solutions based on 3G/HSDPA wireless technologies. Novatel Wireless' Intelligent Mobile Hotspot products, software, USB modems and embedded modules enable high-speed wireless Internet access on leading wireless data networks. The Company delivers specialized wireless solutions to carriers, distributors, OEMs and vertical markets worldwide. Headquartered in San Diego, California, Novatel Wireless is listed on NASDAQ: NVTL. For more information please visit www.novatelwireless.com. (NVTLE)