Tablet PC Industry Solution for Control Systems
Using a windows based control system in manufacturing, entertainment or other developed solutions is more common today than every before. Whether you have a production line needing a PC based control panel or a PC based radio system, you can use a range of commercial Tablet PC's as part of your final complete solution.

To maximize efficiencies, today's manufacturing plants are becoming more automated to ensure precise quality control through all stages of production.

Tablet PC benefits
Tablet PCs with windows or open frame system in fixed control systems offered by quaduro system offer a wife host of advantages, work on a familiar windows based platform in a mobile, sleek, professional solution design to be production and built to be durable.

With a Quaduro Systems mobile solution, warehouse and manufacturing staff can assess key milestones while tracking all stages of production from anywhere on the production floor using the QuadPad tablet PC – without having to go back to an office to re-enter data and findings.

To increase productivity and reduce errors, many warehouses now utilize menu-driven applications using a touchscreen to regulate standards and benchmarks. If handwritten notes are used to gauge progresses, then "jotting" notes on a QuadPad Slate Tablet PC or a UMPC provides a constructive manner for keeping continuous archive of progress. Either way, the information can be transmitted to a centralized data management via wireless servers to eliminate duplicate efforts and keep everyone on the production floor current and connected.

The QuadPad range of Tablet PC's also come with a range of high quality tablet PC accessories tailored for each QuadPad Tablet PC, be it a docking station, a wall or vehicle mount, screen protectors etc therefore eliminating the need to custom make your own additional hardware for specified solution. In addition, Quaduro Systems offer service and support packages for industrial clients such as screen protection plan, extended 3 and 4 year warranty and unlike most other consumer tablet pc brands you get long product life cycle guarantee's ensuring your investment is safe, long standing and profitable.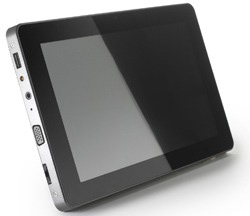 QuadPad 3G Plus
Take your control system to a whole new level with the QuadPad 3G Plus tablet PC. Integrated 3G enabled instant data connection from any area adding more options to your control system including reporting, data reconciliation and new task profiles. In addition, the QuadPad 3G plus is a business tablet PC with SSD as standard and weighing under 1KG, designed with light weight metal bezel the device fits well into any control solution.