Tablet PC Industry Solution for Construction Sector
Construction projects require constant contact between the site managers, designers and clients in order to ensure projects run on time. In addition to that site managers, architects and engineers use specialist software to create plans they may need to refer to throughout the build. A semi-rugged construction tablet pc is ideal for this purpose as it allows all parties to stay in contact using mobile computing and allows managers to quickly look up important specs during a build.
Site Management
The site manager is constantly busy, moving between different sites and to and from offices. Unable to stay in one place at one time, it's vital that the site manager has access to the project files on the move. A tablet PC with 3G connectivity enables the manager to access the project files from anywhere, allow for greater speed of implementation and thus reduce the cost of projects.
Without a business tablet pc, the site manager must relay any problems through fax or phone to other parties involved, which can be time inefficient causing work to be delayed. A well integrated tablet PC solution can allow drawings to be amended live, orders to be adjusted and changes made to carry on working.
Tablet PC features and benefits
Tablet PCs provide a very effective sketching and note taking platform which is useful for illustrating problems and solutions to site workers. This can prove difficult with printed plans, which aren't always available and difficult to edit or read in outdoor conditions.
The added benefit of having plans made available on a business tablet pc is that it's much faster to rectify errors and omissions on CAD drawings, when spotted, files can be quickly emailed to the relevant department and marked using eink for later resolution. This would not be possible on a manual paper based system as plans would need to be faxed or conferred in person, which can delay projects for a long period of time.
Elimination of journey times to confer plans reduces time and cost for the build, which is critical in the competitive construction sector where project turnover is important.
The Quadpad v12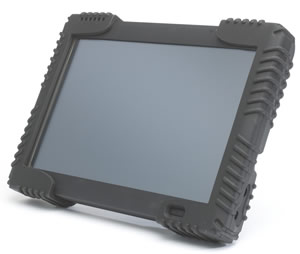 The Quadpad v12 is our flagship semi rugged construction tablet PC device, built specifically for the construction and manufacturing sectors, it features a splash-proof and a rainproof IP54 front bezel, making it an ideal product to use outdoors in rainy conditions. In addition to that it also features a rugged bump case which can withstand light shocks and drops. The internal components when paired with an optional solid state drive makes the device entirely vibration proof, making it perfect to use in industrial environments where vibration from other heavy machinery may impair or damage an ordinary tablet PC.